I'm excited to announce that I've been selected for one of the British Academy's Rising Star Engagement Awards (BARSEA). These awards are granted to "some of the most promising and talented academics in the UK" and "are designed to encourage wider engagement with the humanities and social sciences within and beyond academia".
With an application endorsed by British Academy Fellow and internationally renowned historian Professor Joanna Bourke, my award will fund the organisation of a series of five public in-conversation events about war widowhood in the UK in 2018.
The British public commonly imagine war widows to be elderly women who lost their husbands as a result of active combat in the Second World War, surrounded and supported by family, friends, the armed forces, and the state. While this applies to some women, it by no means describes the majority of Britain's 18,950 war widows.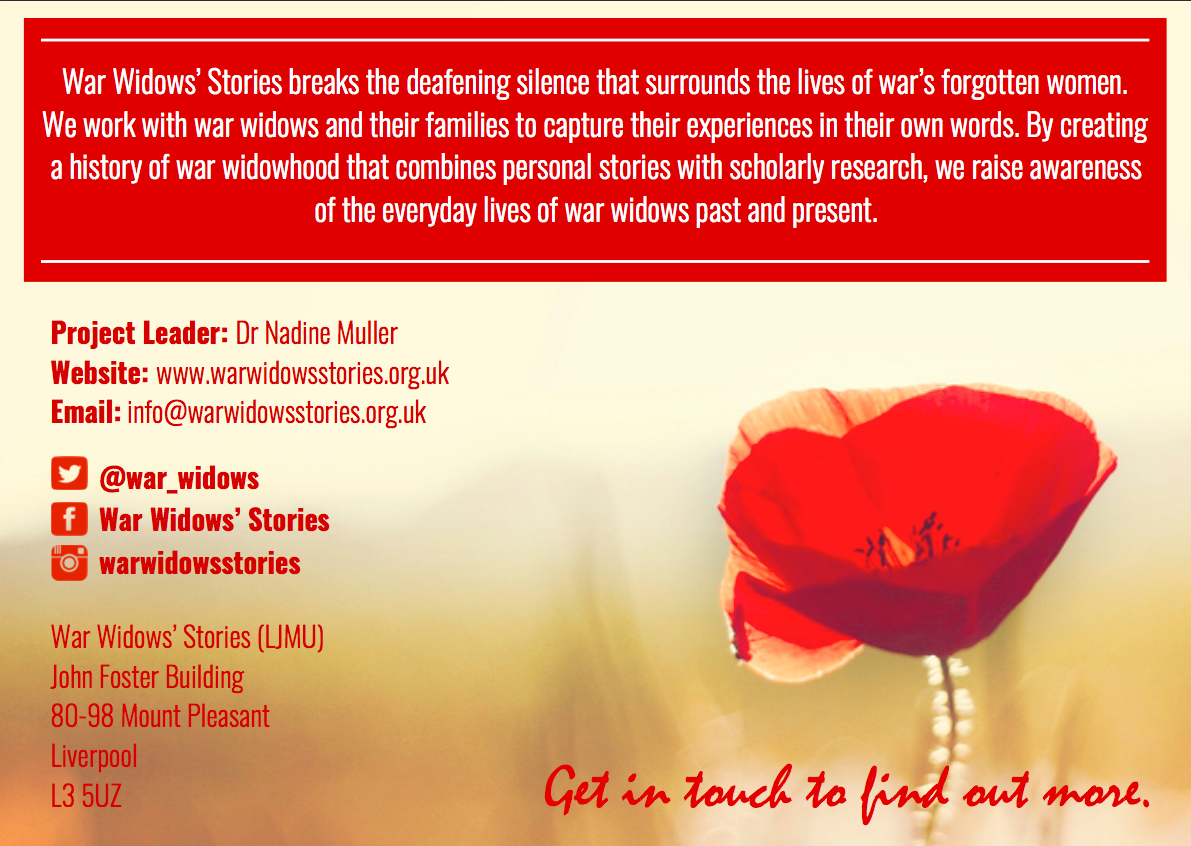 Building on the interviews that War Widows' Stories recorded to date, the artefacts we have curated, and the research we have produced, these new events will help break the silence and challenge the stereotypes surrounding war widowhood past and present. The discussions will highlight that war widows are ordinary women facing extraordinary circumstances and will shed light on who is classed as a war widow, the diversity of circumstances that make women a member of this category, and the range of practical, psychological, economic, and social challenges war widows and their families faced have faced in the past and still face today.
We will bring together historians, war and service widows' associations, and war widows and their children to connect individual experiences with wider historical and political pictures in order to tell the stories of war's forgotten women.
The events will be held between June and December 2018 in amazing museums across England, Scotland, and Wales, including the Imperial War Museum North (Manchester), the National Museum of the Royal Navy (Portsmouth), the Highlanders' Museum (Fort George), and the Museum of the Queen's Dragoon Guards and the Royal Welsh (Cardiff Castle), all of whom have fascinating collections that attendees can explore before and after the events.
Details about each event will be posted on the War Widows' Stories website, and via the project's and my own social media channels very soon. If you would like to be the first to hear the news, or if you would like to get in touch with questions and suggestions, visit the project website and follow our updates on social media, or simply email me here.
You can read more about this year's awards – including all the other award holders and their projects – in the British Academy's press release here.